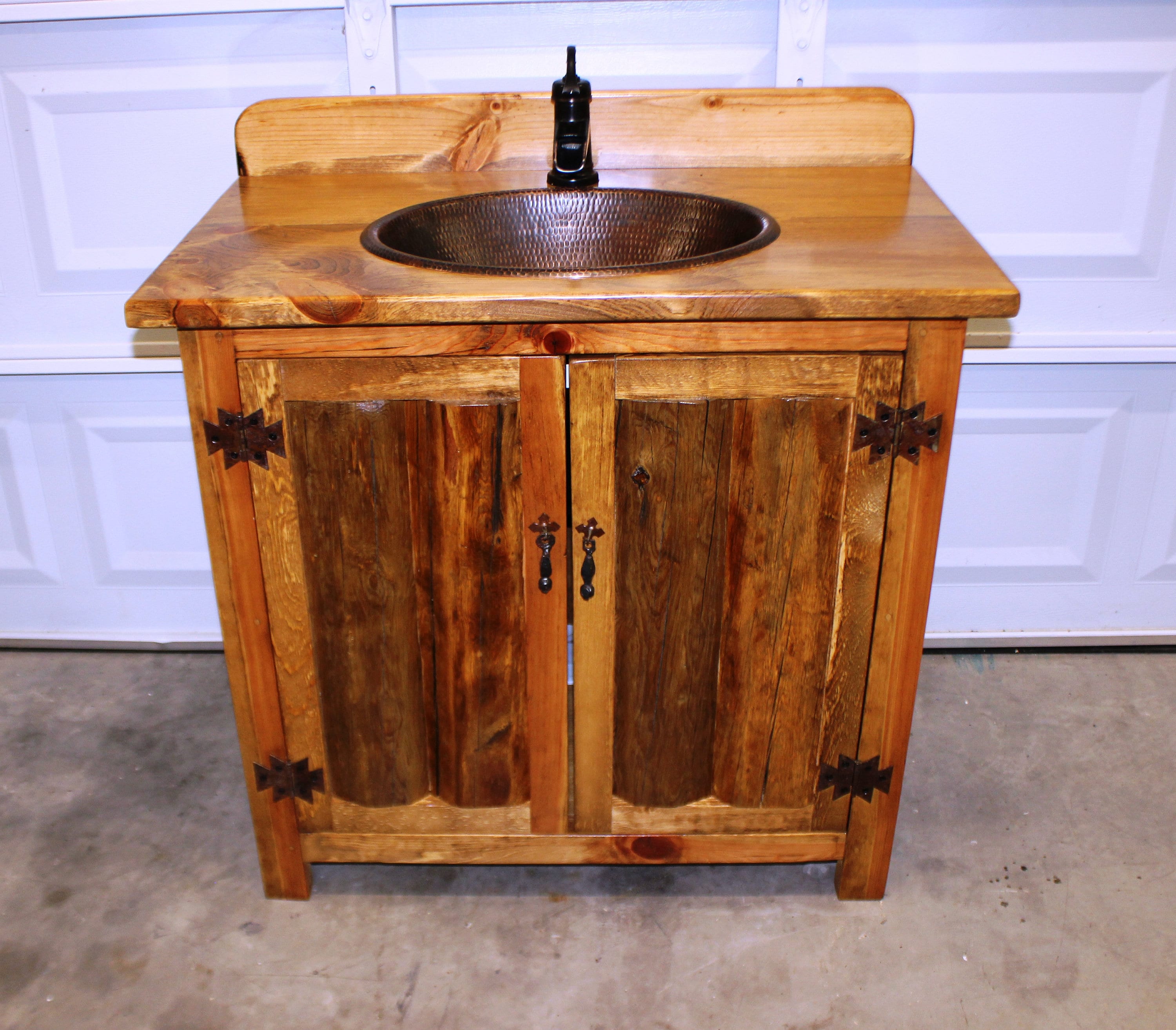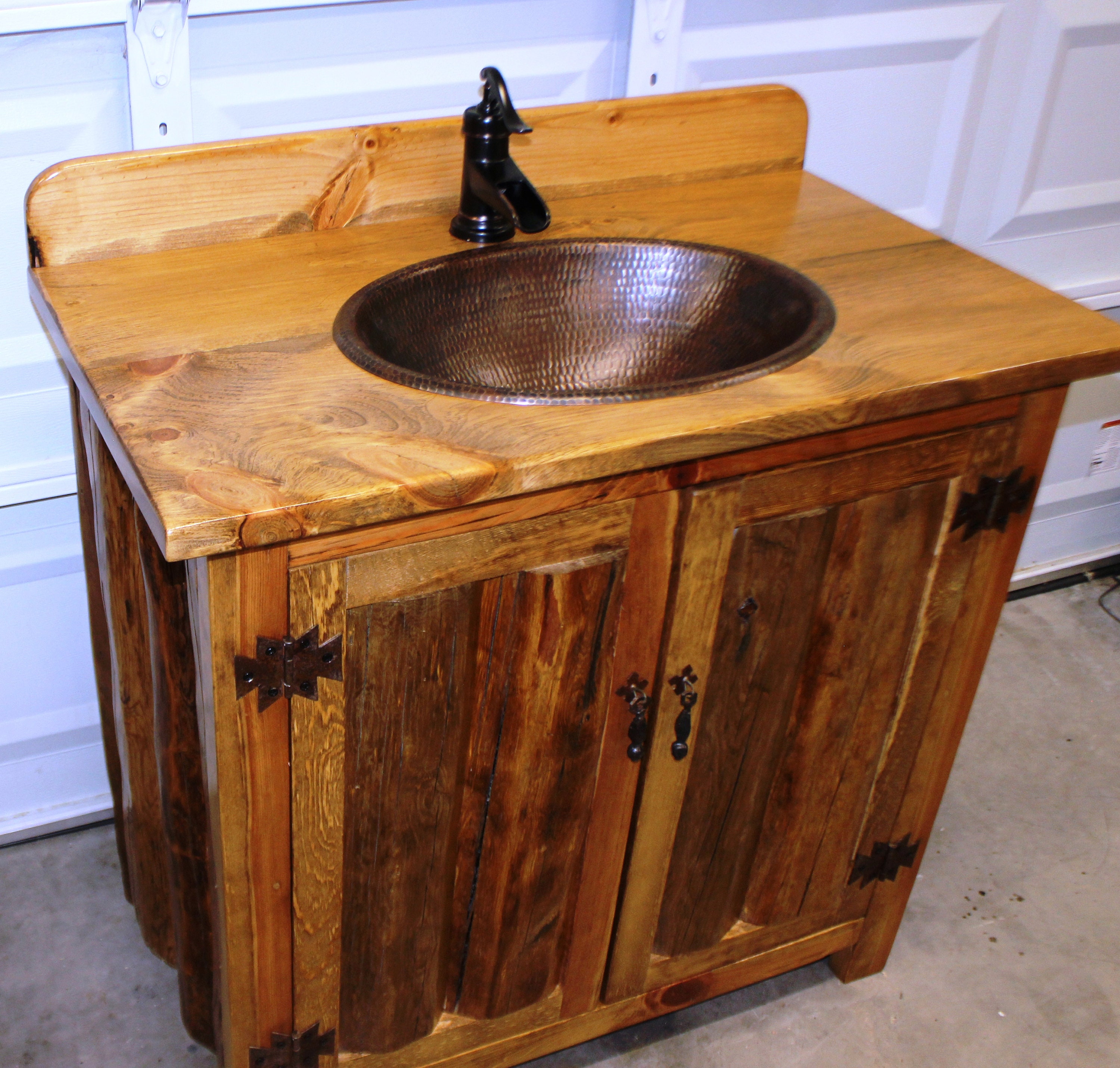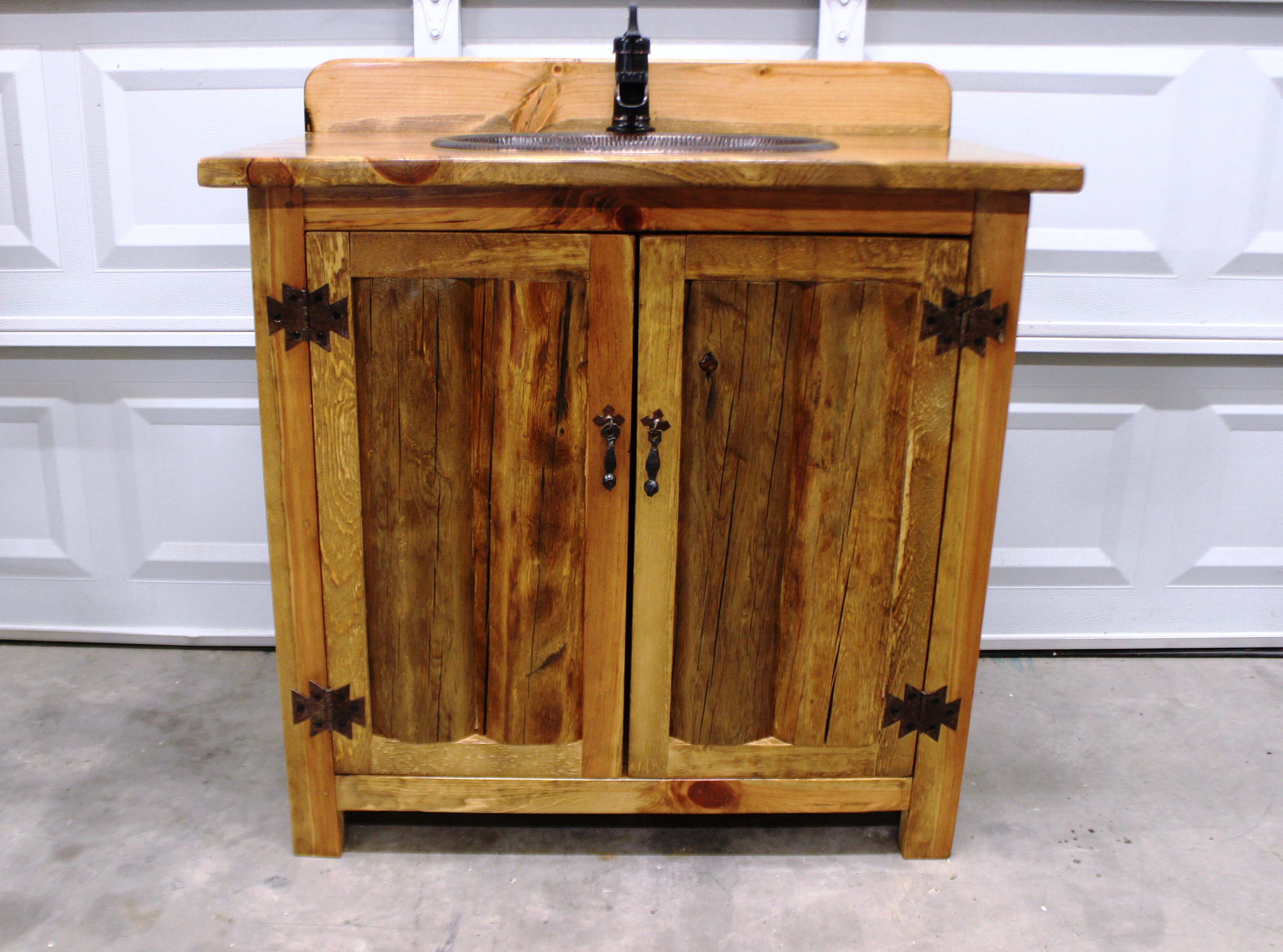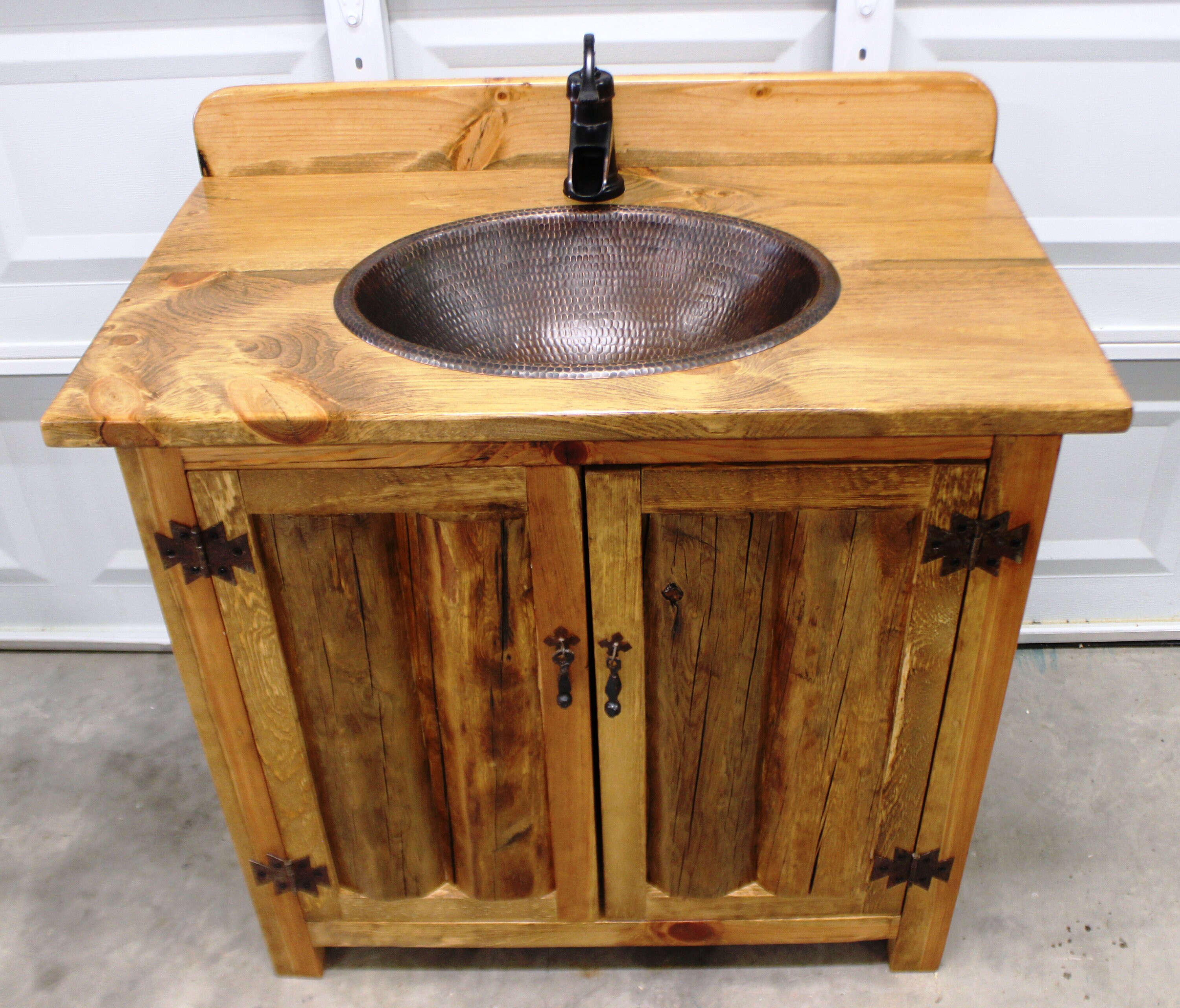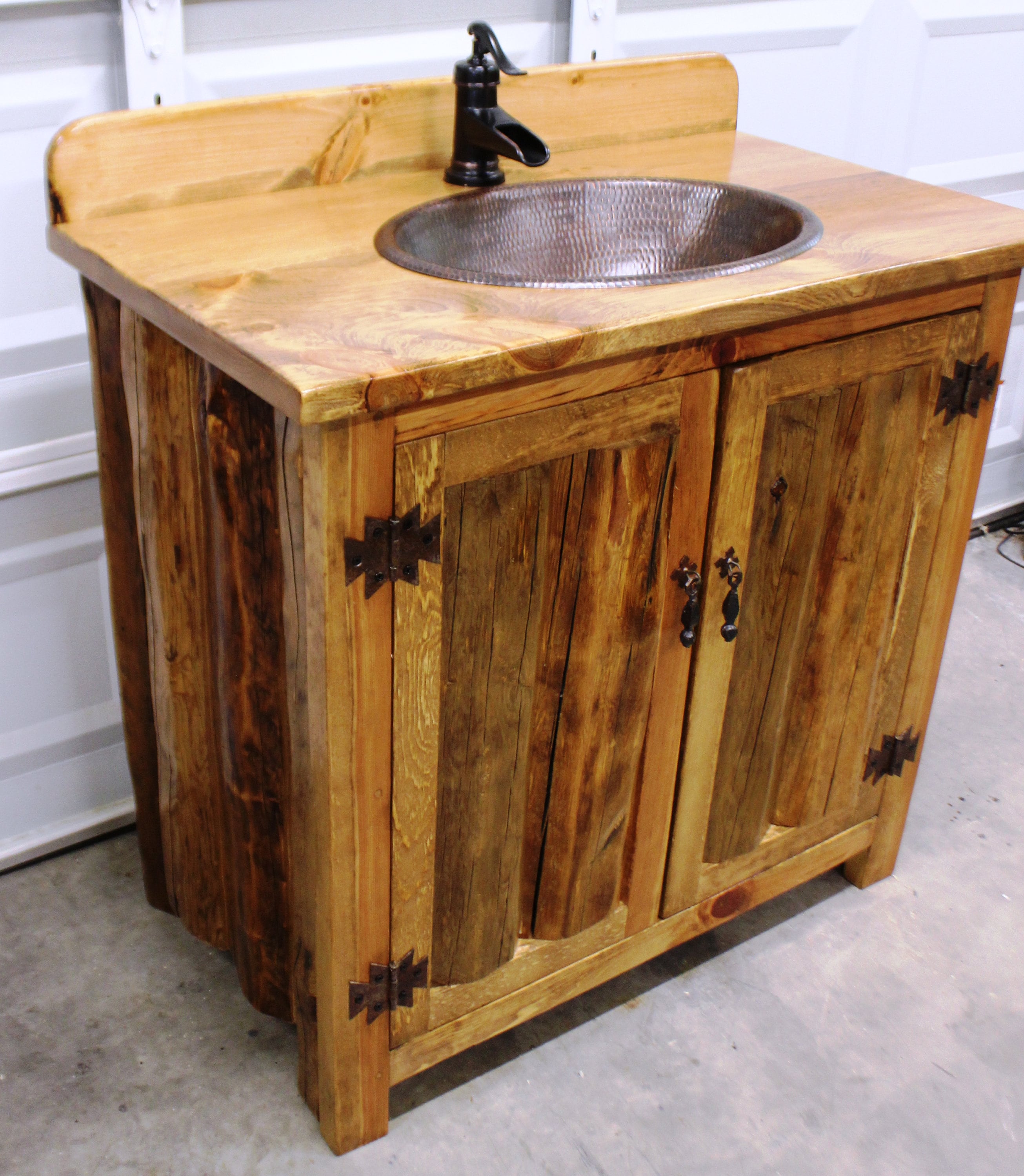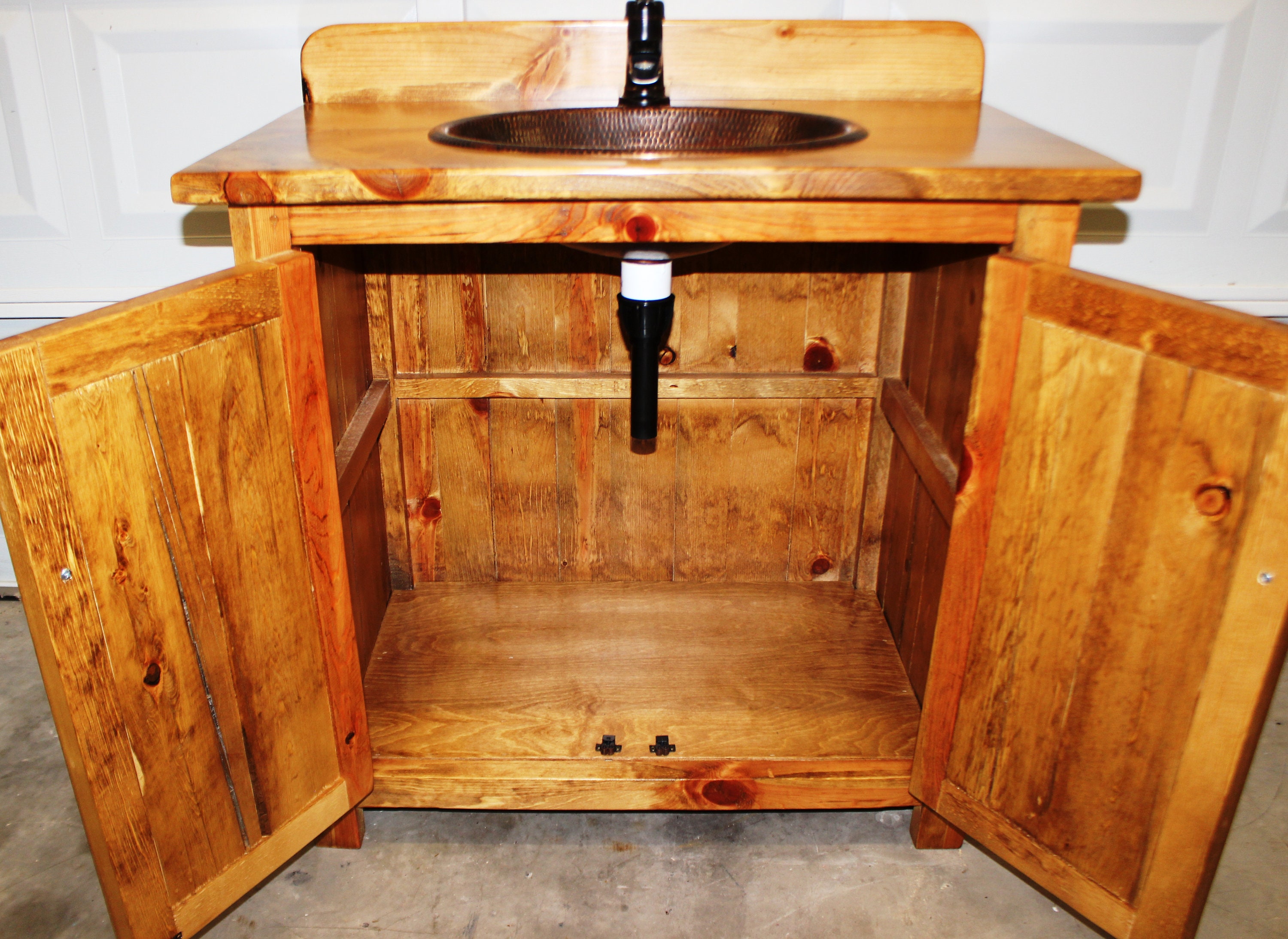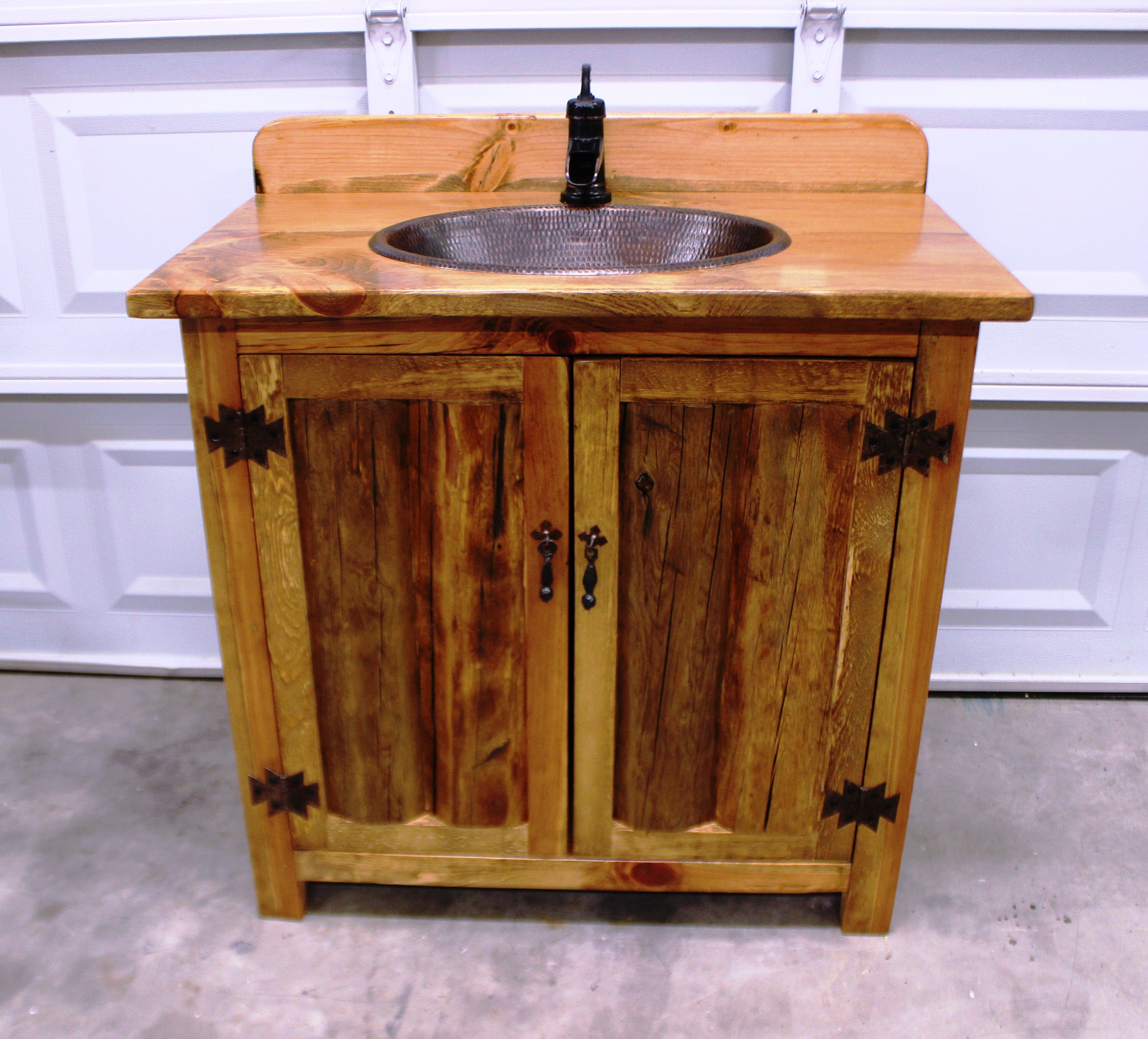 This Rustic Bathroom Vanity is 36 inches wide and built with old hand-hewn pine logs with a copper sink. (Another listing of this same model shows a different faucet and no back-splash.)

MS1371-36:
Height: 34 inches
Width: 36 inches
Depth: 21 inches

The price shown includes the sink and faucet installed.

The 4-inch back-splash is optional. Please note on your order if you do NOT want a back-splash.

This rustic bathroom cabinet is made of pine logs. The hand-hewn pine logs are about 100 years old, taken from old log cabins. Even though the look is primitive, it is very durable and usable in your bathroom. The wood is stained a warm, medium stain. After staining, we apply many layers of finish to create our water-resistant finish. The finish is applied inside as well as outside, making the wood suitable for bathroom moisture. The top is made of furniture grade pine and finished exceptionally well to hold up to bathroom use.

The sink is hammered pure copper. The copper has a warm, dark brown patina like an old penny. The copper sinks are heat-treated to achieve the dark color which would develop naturally over time.

This faucet is a bronze pump faucet which is made by Price-Pfister. Options on the faucet are available.

This bathroom vanity comes complete, READY TO CONNECT to your plumbing with sink and faucet installed.

THE SHIPPING COST includes crating and insurance to the 48 states. We are located in East Texas and ship from a reputable shipper. If you are able to pick up your bathroom vanity from our shop, the shipping cost will be waved.

MADE IN AMERICA-- CANTON ANTIQUES specializes in bathroom vanities with sinks and faucets. We have been in business since 2001 and have hundreds of satisfied customers. Our bathroom cabinets are made with pride by us on site in East Texas. We value our customers and will gladly work with you to meet your needs for your home.

All our RUSTIC LOG BATHROOM VANITIES are made from antique, hand-hewn pine logs and come in many sizes. They have wooden tops and we usually use copper sinks and bronze faucets for a fantastic log cabin appeal.

Our other lines of Bathroom Vanities include bathroom cabinets that we call FARMHOUSE VANITIES -- made with bead board and furniture grade pine which we often finish with a paint and stain combination. They have wooden tops, and we usually install copper sinks and bronze faucets in them for a charming farmhouse decor.

All of our bathroom vanities are sealed and finished with our 6-coat specialized finish which will hold up well to moisture in your bathroom

For more INFORMATION--- message us on Etsy, or call Jim at 903-385-6600.