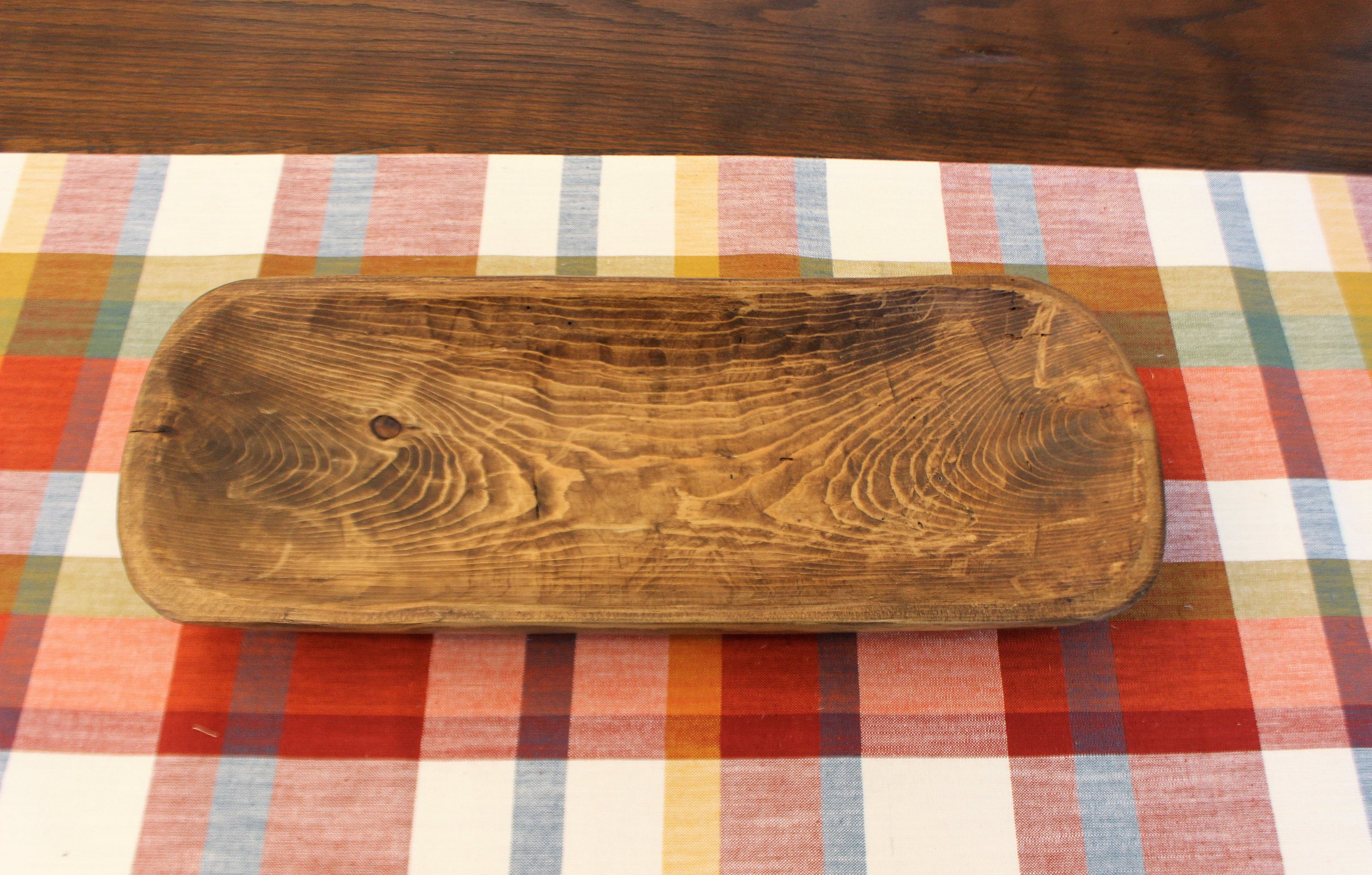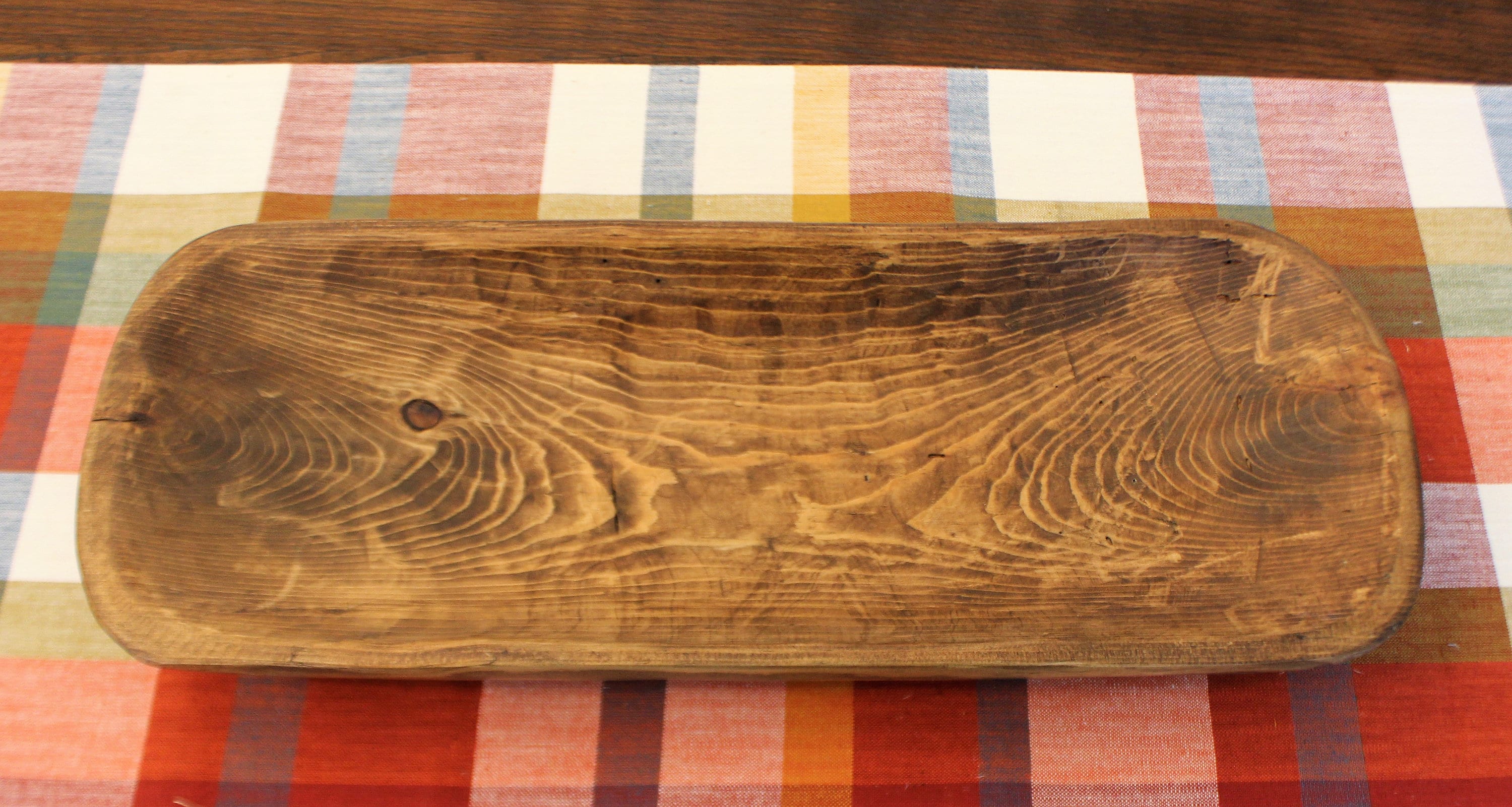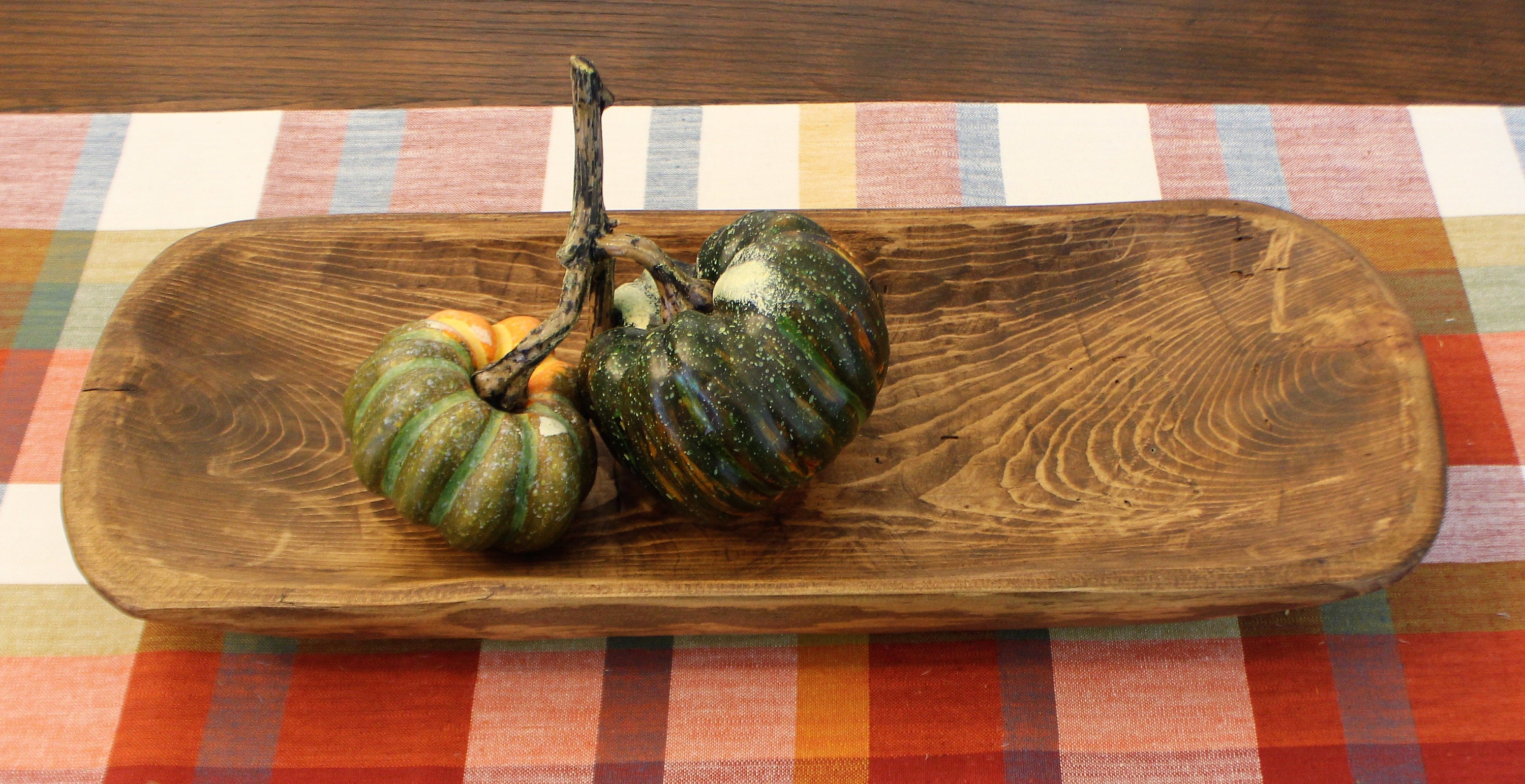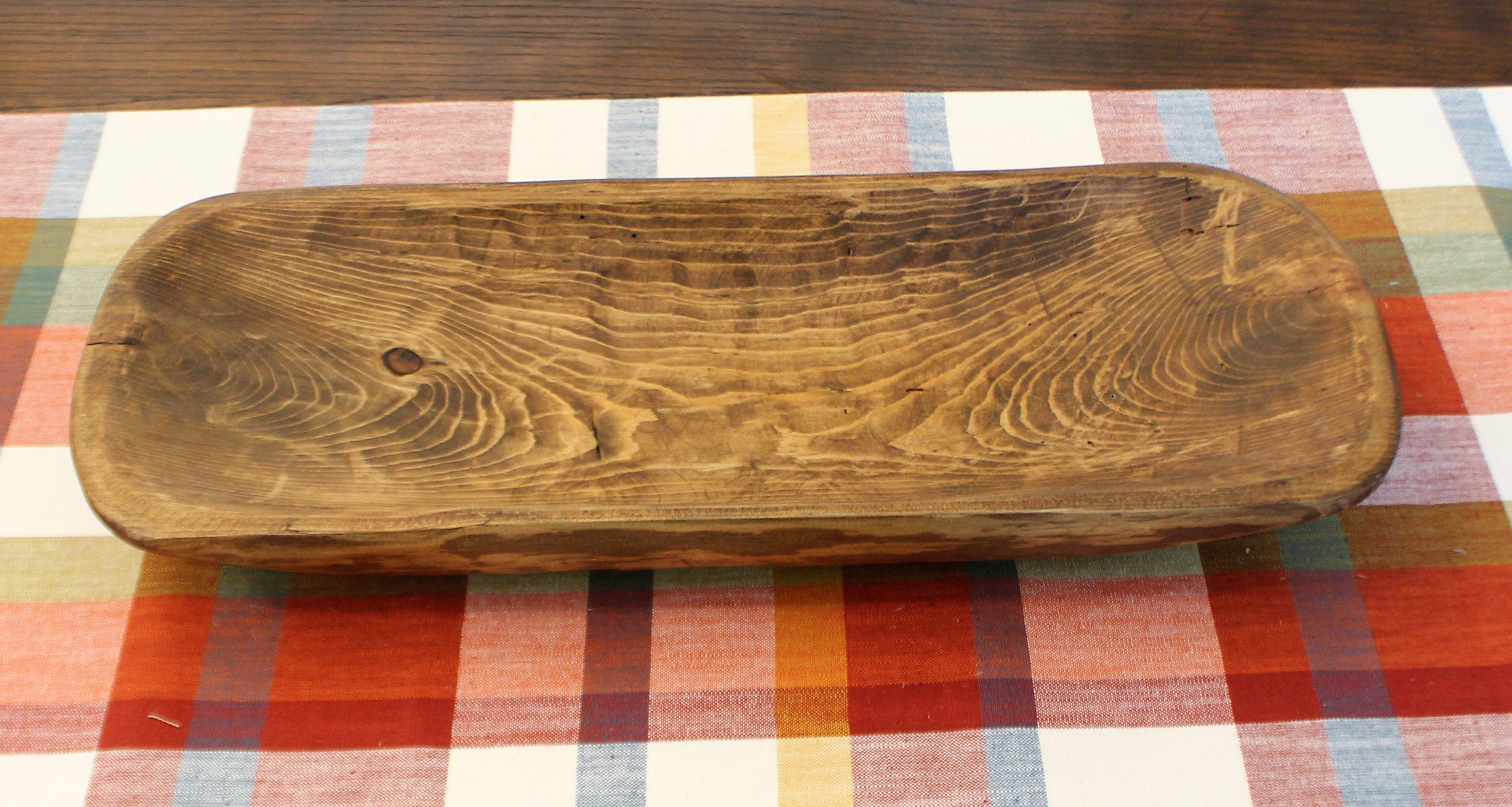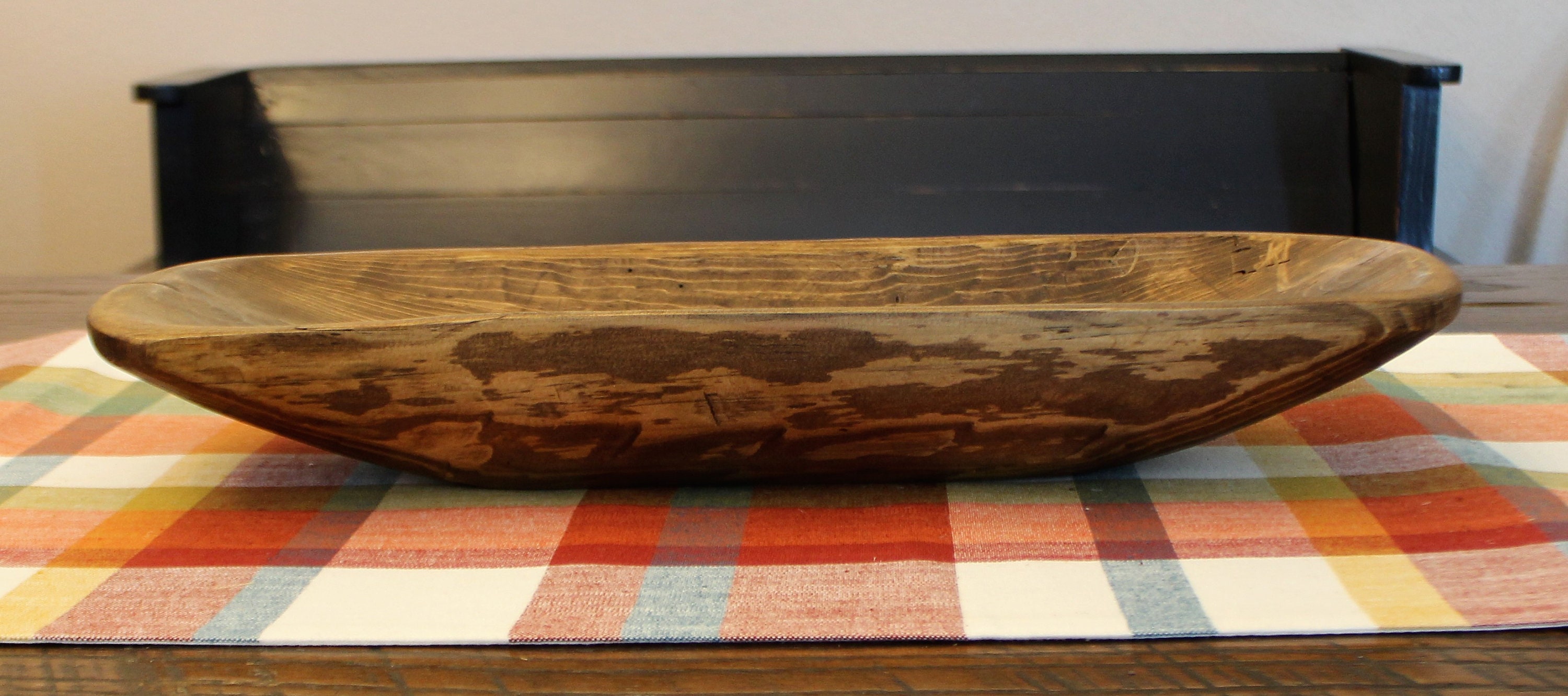 HAND-CARVED DOUGH BOWL or BREAD BOWL

These rustic BREAD BOWLS are one of a kind. You are purchasing THE EXACT ONE PICTURED here. The wood grain in this bowl is darkly stained. It has a beautiful shape with outstanding grain and a few natural marks which give it rustic character.

This is our most popular size which looks good on any table with any decorative contents you can imagine. I used fall gourds here. I have used colorful bell peppers from my garden, Halloween candy, and Christmas Tree ornaments.

Size:
18 inches long
7 inches wide
2.5 inches deep

Our Dough bowls are hand-carved from Mountain Pine which is a hard and beautifully grained wood.

After being hand-carved, our bowls are rubbed to be smooth, stained with a medium-colored stain, and waxed for a smooth, but not-too-glossy finish.

Shipping will be the next Business Day after purchase.

Shipping is FREE to the USA.

I always ship Priority Mail which takes 2-3 business days.
Refunds
Please contact us if there is a problem with your order. We accurately describe our items but because they are handmade, no two items are exactly same. Pictures are for samples only. Please note that colors sometimes look different from computer monitor to computer monitor - your colors may look slightly different than what you see on your computer screen.

All Sales are final unless the mistake is ours. If your item is damaged in delivery, send it back and I will replace it, and refund your postage. If you get the wrong item, send it back. and I'll replace it and refund your postage. If you just want it in a different color, I'll exchange it, but you must pay the postage when you mail it back.

If it was lost in the mail because you gave me the wrong address, I cannot be responsible for that.

Hope that doesn't sound harsh, but after sending out over 700 hand made-orders, things have happened that I can count on one hand. Thankfully, 99.9% of our customers are happy with our work and receive them without a problem.