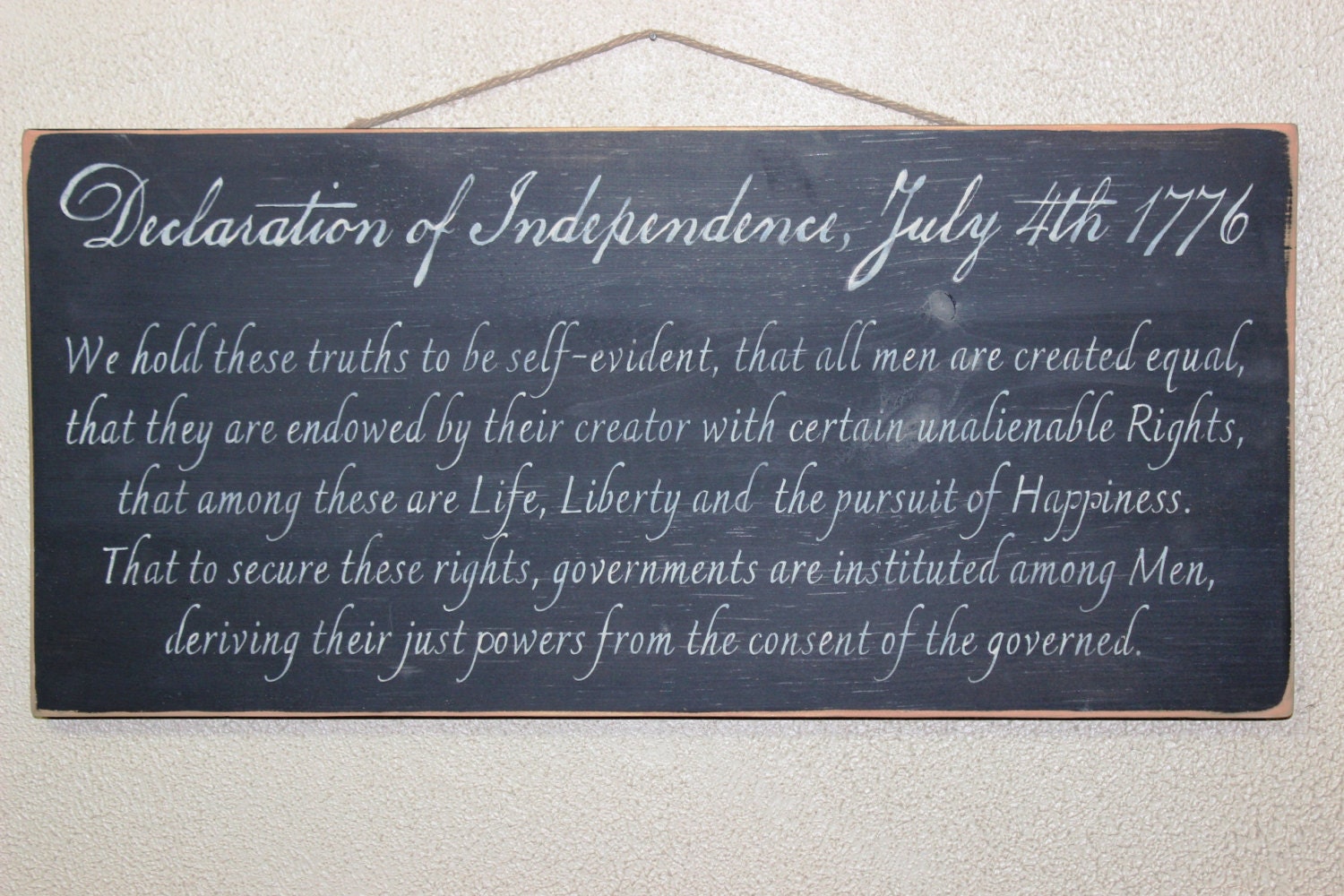 The first words of the Declaration of Independence-- as penned by Thomas Jefferson--on July 4th in 1776-- are reproduced on high quality wood, in antique white script on a black background painted with chalk paint.

12 inches x 24 inches on a 1/2 inch wooden board.

It reads:

Declaration of Independence July 4th 1776

We hold these truths to be self-evident, that all men are created equal, that they are endowed by their Creator with certain unalienable rights, that among these are life, liberty and the pursuit of happiness. That to secure these rights, governments are instituted among men, deriving their just powers from the consent of the governed.

The script on the sign closely resembles that on the original Declaration of Independence.

This makes an outstanding gift for anyone interested in the origin of the United States as an independent nation. American History students and teachers really appreciate the authenticity of the this piece.

It comes ready to hang in your home, classroom or office.

Please allow 1-2 weeks to complete your order. We we always ship priority mail which takes 2-3 business days.
Refunds
Please contact us if there is a problem with your order. We accurately describe our items but because they are handmade, no two items are exactly same. Pictures are for samples only. Please note that colors sometimes look different from computer monitor to computer monitor - your colors may look slightly different than what you see on your computer screen.

All Sales are final unless the mistake is ours. If your item is damaged in delivery, send it back and I will replace it, and refund your postage. If you get the wrong item, send it back. and I'll replace it and refund your postage. If you just want it in a different color, I'll exchange it, but you must pay the postage when you mail it back.

If it was lost in the mail because you gave me the wrong address, I cannot be responsible for that.

Hope that doesn't sound harsh, but after sending out over 700 hand made-orders, things have happened that I can count on one hand. Thankfully, 99.9% of our customers are happy with our work and receive them without a problem.