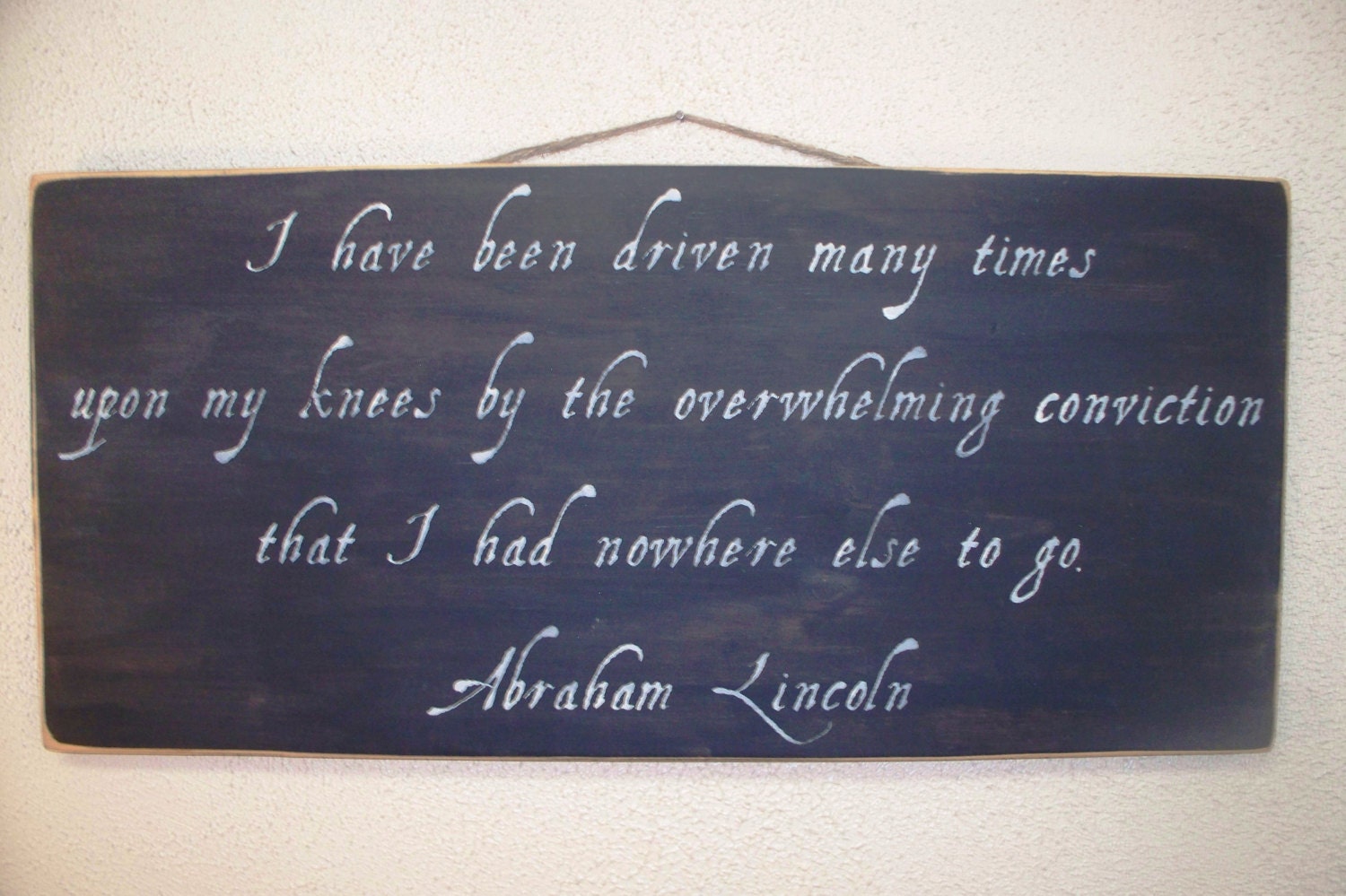 I have been driven many times upon my knees by the overwhelming conviction that I had nowhere else to go. Abraham Lincoln

This is a famous quote by Abraham Lincoln spoken by him as President sometime during the Civil War. What a tribute to a great man at the helm of a great country who PRAYED in times of crisis to the Almighty GOD!

This wooden sign is hand painted with black chalk paint, sanded to look old, and then stained over the sanded edges. The lettering was painted in tan to look like Abe Lincoln's own hand writing.

12" x 24" x a 1/2 " wood board

The sign comes ready for you to hang.

Our signs are handcrafted and hand painted, with NO VINYL. They are MADE in AMERICA.

Please allow 7-10 days after payment is made for me to complete your sign. Shipping is always Priority Mail which takes 2 or 3 days.

Thanks for looking!
Refunds
Please contact us if there is a problem with your order. We accurately describe our items but because they are handmade, no two items are exactly same. Pictures are for samples only. Please note that colors sometimes look different from computer monitor to computer monitor - your colors may look slightly different than what you see on your computer screen.

All Sales are final unless the mistake is ours. If your item is damaged in delivery, send it back and I will replace it, and refund your postage. If you get the wrong item, send it back. and I'll replace it and refund your postage. If you just want it in a different color, I'll exchange it, but you must pay the postage when you mail it back.

If it was lost in the mail because you gave me the wrong address, I cannot be responsible for that.

Hope that doesn't sound harsh, but after sending out over 700 hand made-orders, things have happened that I can count on one hand. Thankfully, 99.9% of our customers are happy with our work and receive them without a problem.